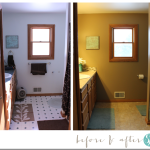 You guys.  You. GUYS! My loo is LOVELY!  Absolutely stinking gorgeous. Here's what it looked like before… It was cold, boring and dated. (Although my paint-stick mirror above the toilet is pretty fun!) We ripped up the ugly, old linoleum, pulled out the hideous green countertop (complete with oak trim and green backsplash), and took […]



© SIMPLY BLOOM PRODUCTIONS, LLC • 2014 • All Rights Reserved
No part of this website or any of its contents may be reproduced, copied, modified or adapted, without the prior written consent of the author, unless otherwise indicated for stand-alone materials. Free printables are intended for personal use only and may not be printed for resale purposes.